This content has been archived. It may no longer be relevant
While there are many ways to explore Grand Cayman, using buses and taxis is an affordable and convenient option. Because ride sharing services are not available on the island, the app you use back home won't be much use here. In this blog, we'll provide you with a guide on how to use the bus and taxi system in Grand Cayman.
Buses in Grand Cayman
The bus system in Grand Cayman is an extremely easy and cost effective way to get around the island. The buses operate along several different routes, with each route covering different areas of the island.
Bus stops will be labeled with colors and numbers to show which bus route will stop there, and our hotel on Seven Mile Beach is situated along one of the main roads. If you start to walk down the sidewalk, you'll soon hear the distinctive double honk as one of these 15-passenger vans (public bus) pulls over for you.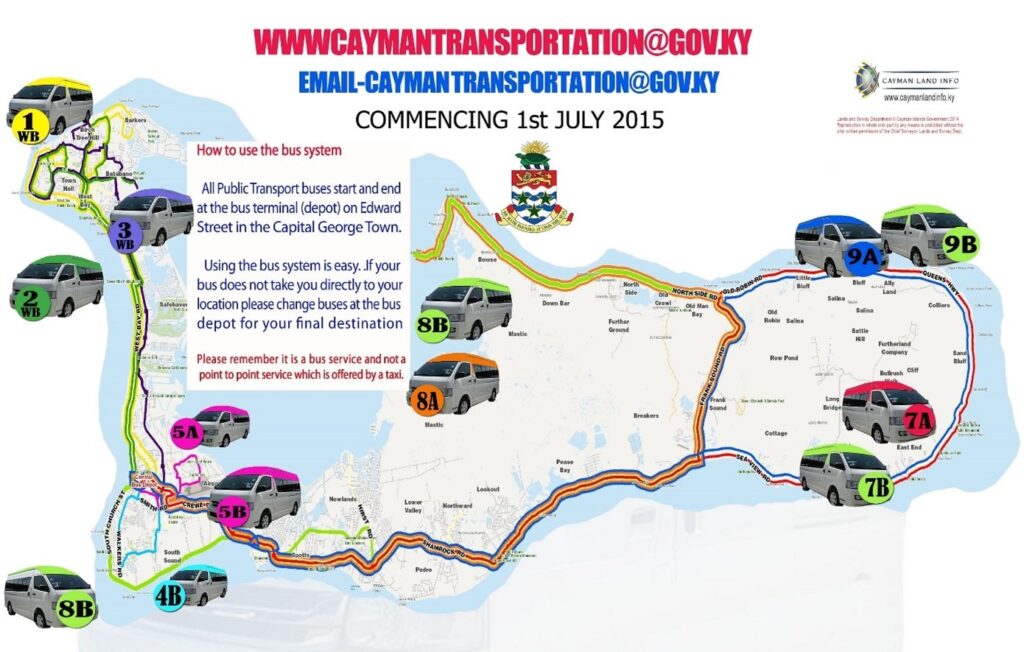 Buses should be labeled as "public bus" across the front and back window, but otherwise, they can look very non-descript and come in a variety of colors. Expect to squeeze in among other island visitors and locals.
When you board the bus, you'll need to pay your fare in cash. The fare is currently CI$2.50 (US$3.00) per ride, regardless of how far you're traveling. It's important to note that buses in Grand Cayman do not have air conditioning, so be prepared for a warm ride. Often, for a small additional charge ($1-$3), bus drivers will be willing to deviate from the usual route and drop you off closer to your destination.
Taxis in Grand Cayman
Taxis in Grand Cayman are plentiful and are a great way to get around the island if you prefer a more private and comfortable ride. Taxis are typically white or silver and can be easily hailed from the side of the road or found at designated taxi stands. There are usually a line of taxis waiting outside of our hotel and at many of the popular tourist spots during peak hours.
The fares for taxis in Grand Cayman are regulated by the government and are based on the distance traveled. The fares are displayed on a chart in the taxi, so you can see how much you'll be charged before you start your journey. It's always a good idea to confirm the fare with the driver before you begin your trip.
Also, taxis and buses look very similar, but costs are very different. Be sure to look for the "Public Bus" sticker on the windows and/or ask the driver to confirm your rate to get where you're going.
Tips for Using the Bus and Taxi System in Grand Cayman
– Always carry cash with you, as buses and most taxis in Grand Cayman do not accept credit cards.
– If you're unsure about which bus to take, ask the driver or other passengers for assistance.
– Taxis in Grand Cayman can be shared with other passengers if you're traveling to the same destination, which can help to reduce the cost.
– Be prepared for a warm ride on the bus and consider bringing a bottle of water with you.
– Tipping is not required, but it's always appreciated if you receive good service.